My hubby Joe and I.


Joe and I went on our annual trip to Mesa to visit my family. It was so great to see them and to get out of this cold weather we are always having!

I think that all of my family members have a one track mind.....everything is about food!! This blog will be my food diary of my trip!!
The first day we arrived, my mom took us to Country Kitchen to eat. It's a buffet style restaurant so I thought I would be safe with my diet and could choose healthy foods. So far, so good.
The second day we went to Costco to get food. Mom bought some huge
rib eye
steaks!!! I mean three people could have eaten from one steak!!! I ate half of it and saved the other half and ate it on a salad the next day.
The third day was my mom's great
Mexican
food. Tacos,
tostada's
, and bean
burritos
. Man were those good!!! There was so much food, we ate it again on the fourth day!!
The fifth day we went out to eat at the Golden Corral. Holy
Moly
!!! The Golden Corral in Poky is crap
compared
to this one in Mesa!! I have never seen so much food and it was all good!!
The sixth day was a family reunion picnic. My mom always makes a very large pot of beans and tortillas for everyone to eat. I really should have taken pics of it also. We ate the leftovers the next day too!
The eighth day was pork chops cooked in mushroom soup, mashed potatoes, corn and salad. Very, very good!! Stupid me ate my food without taking a picture!!!
Day nine was beef tips on egg noodles, salad and a roll. YUMMY!!! There is gravy hiding down in there!!

The last night we were there, we ate at my favorite restaurant, El Charro. Can you tell I love Mexican food!!! It was worth waiting for! Wish I would have taken pictures of that too so I can look at it and drool!!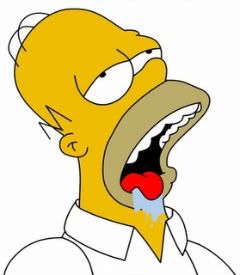 For the most part, I "TRIED" to eat right, but...... And instead of gaining 10 or more pounds, I only gained 4!!! Not too bad